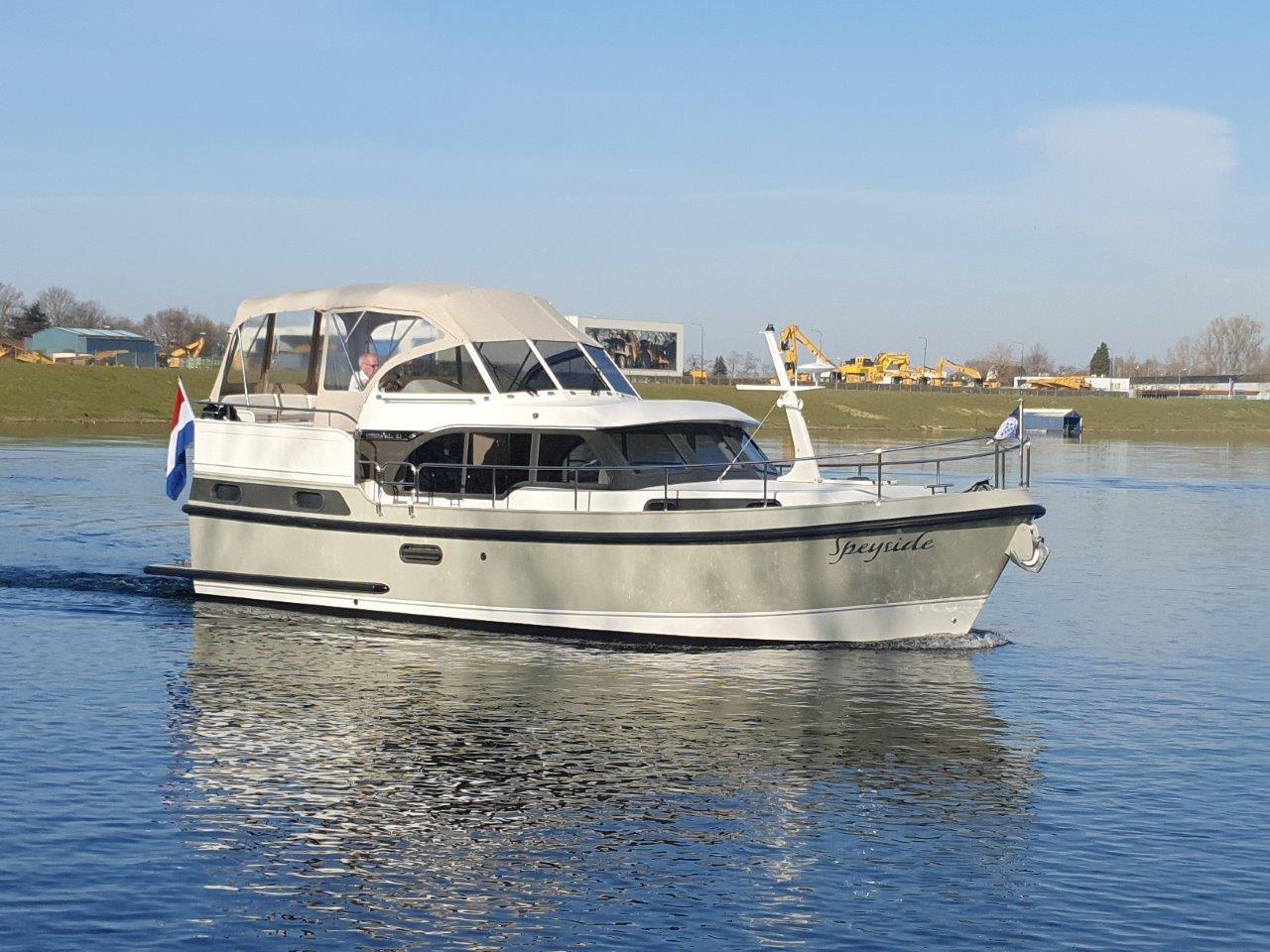 Blue Wave Yachting - by Delos
Jachthaven Marnemoende
Noord- IJsseldijk 107 f
NL-3402 PG IJsselstein
Tel.: +31 (0)348-451 803
This email address is being protected from spambots. You need JavaScript enabled to view it.
www.delosyachtcharter.nl

Yacht charter in North-Holland / Utrecht

Luxury yacht charter in the north of the Netherlands, with steel Linssen motor yachts. The museum capital Amsterdam has many interesting mooring locations close to the city centre. You can sail along the Kostverlorenvaart to experience the heart of Amsterdam. You really must see the beautiful River Amstel and the picturesque Vecht for yourself! Vecht is very special because of its many old country houses and tea gardens. It is also possible to visit Haarlem and Katwijk aan Zee.

If you need even more beautiful nature, peace and quiet, and space, you can find it all on one of the beautiful lakes, such as the Loosdrechtse plassen, the Kagerplassen with its beautiful old mills and picturesque villages, and the Spiegelpolderplas. Many lakes have marinas, terraces and restaurants where you can enjoy swimming and other recreational activities.

Utrecht is also definitely worth a visit with your luxury motoryacht! The Catharijnesingel and the Weerdsluis have beautiful moorings with all the necessary facilities. From here you can walk straight into the historic old city centre with its beautiful wharf cellars, terraces and museums.

Boat / Period

29/03 - 12/04/2021
---
25/10 - 01/11/2021

12/04 - 03/05/2021
---
27/09 - 25/10/2021

03/05 - 14/06/2021
---
13/09 - 27/09/2021

14/06 - 28/06/2021
---
30/08 - 13/09/2021

26/08-30/08/2021

Linssen 35 SL AC
Speyside
4 pers


€ 2.190

€ 2.380

€ 2.570

€ 2.660

€ 2.750

Final cleaning


€ 100

€ 100

€ 100

€ 100

€ 100



Prices per week, including VAT, Gas and All-risk insurance (prices are subject to change)

Representing LBH in the Green Heart
While most sailing enthusiasts need no introduction to the Frisian Lakes, the sailing area around the Green Heart of the Netherlands is less well known. With the addition of Delos Yacht Charter to its partner network, LBH is about to change that. Marnemoende yacht marina in IJsselstein is the home base of Delos, which is run by Peter and Maaike Nijhuis. Holidaymakers from all over the world rent a yacht from them for multi-day cruises on the Vecht, the Hollandse IJssel and the Loosdrechtse Plassen, among other places. Since season 2021, this has also been possible with the latest Linssen 35 SL AC.

Peter Nijhuis comes from a family of skippers. Sailing is in his blood. Although he initially chose a career as a graphic designer, he always had the ambition to do something in the water sports industry. Peter: "I have always been interested in yachts and their maintenance. In 1992, I bought a 'Doerak' together with a friend to refurbish and rent out. I did this in addition to my job at the time. In 1994, Maaike and I officially started our yacht rental business. In the years that followed, we gradually expanded our fleet."

Doeraks and Roggers
In the winter, Maaike works part-time in care, but in the sailing season she and Peter are the face of Delos Yacht Charter. Maaike: "In addition to the charter business, we have a water sports shop in the marina. Peter also carries out maintenance on yachts belonging to private owners that are moored here in the marina."
Peter and Maaike built the company together from scratch. Peter: "We financed everything ourselves. I have refurbished or completely rebuilt most of the yachts from an empty shell. Initially, these were Doeraks and Roggers, but then we also added Veha cruisers for the luxury segment. For example, I built the Delos 1430 that you can see in our charter fleet myself to my own design."

Surprising sailing area
The Delos fleet is extremely diverse. The range consists of family yachts, comfort yachts and luxury yachts, and attracts sailing enthusiasts from Europe and beyond. Maaike: "We are located in IJsselstein near Utrecht, in the middle of the Green Heart of the Netherlands.
The marina is a so-called Tourist Transfer Point (TTP). Lots of people leave their cars here and go for a scenic bicycle ride or walk in the surrounding area. In terms of sailing, we are situated between Amsterdam, Gouda and Utrecht. You can go on pleasant cruising trips here and excursions to cities. Depending on how many hours a day you want to sail, you can extend your range and sail to Haarlem and Katwijk, for example. Or just enjoy spending a few days in Amsterdam."

The Green Heart is a sailing area with something for everyone. Here, you can alternate peace and nature with the charms of city life. Maaike: "It's a good move for Linssen Yachts to have a partner in this area too. A lot of our customers have sailed in Friesland for years. They are really amazed by our sailing area and the beautiful places they can see. The Green Heart is still relatively unknown, but we're about to change that together with Linssen."

LBH partner
Peter and Maaike had always appreciated Linssen Yachts and there was already a connection between Delos and Linssen. "We were approached by Linssen because they were looking for an LBH partner in the middle of the Netherlands. They thought this place was charming. And us too," Maaike adds, laughing. "There was an immediate click. They are extremely hospitable and deliver a product that we feel very good about."

The first Linssen yacht to be added to the Delos fleet is the new Linssen 35 SL AC. Maaike: "This is aimed at a different segment to our other yachts. That's why we will be marketing this and future Linssen yachts under the name Blue Wave Yachting by Delos."

Instruction videos
Delos Yacht Charter pays a lot of attention to the maintenance of its fleet and provides instructions to its customers. Maaike: "We are very precise about that. If you do that well, you benefit as a charter customer and as a charter company. The customer wants to go on holiday relaxed and we want to get our yacht back in good condition. When you book with us, you get a lot of instructions in advance. Due to the coronavirus crisis, this year for the first time we made instructional videos for all of the yachts. These explain all of the technical details very well. The customer receives these videos from us in advance, but can also refer to them while they are sailing, of course."

Looking ahead positively
Coronavirus also had a major impact on the yacht charter business. Peter: "Normally, we start chartering in April, but last year we could only start in June. We had a lot of cancellations from foreign customers who couldn't or didn't want to travel. That's when we got a bit scared." Maaike: "But we're not complaining; other sectors are much worse off. We gave all of the customers who booked a sailing holiday vouchers that are valid for one year. All of the gaps in our planning were then filled by Dutch people who decided to holiday in their own country. So we came through it reasonably well. Setbacks are part of life, we have to keep looking ahead positively. In any case, with our LBH partnership we have great prospects for this year."